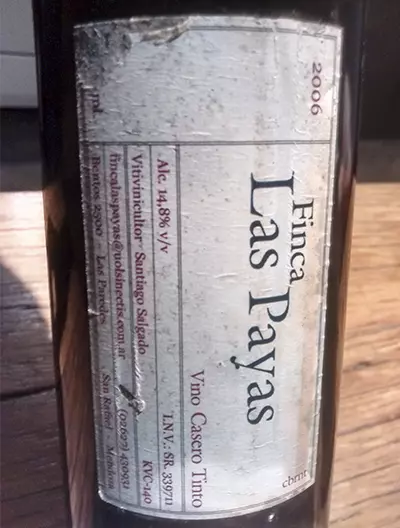 Animal powered wines that do not like to be over-handled.
An attempt to put a piece of truth inside a bottle.
I have been making wines in San Rafael since 2005. Over the years, what began as a hobby became my main occupation: Animal powered wines that do not like to be over-handled, an attempt to put a piece of truth inside a bottle.
I am fascinated by the idea that before the Second World War, agriculture could be performed without chemicals and so do wine elaboration. Hence, part of my journey is to renounce modern techniques to go back to the old ways of doing things. It is a search that tries to find the most frank path between the soil and the drinker, clearing it up as much as possible of interference. That's why in Las Payas the wines are made with as minimum interference as possible. My wines have confessed to me that they don't like being bullied over and this is Las Payas territory, where the wines rule and the winemaker obeys.
Also, I am guided by some sort of transparency: I like telling my drinkers everything I do to my wines, which leaves me no choice but to do what I say I do.
Between the first dubious bottles back in 2005, made in the old shed of the finca, and those I make now, a lot of wine has run under our bridge. Now I invite everyone to uncork and swim against the current.
During the pandemic, I successfully crowdfunded a small (half a hectare) agroecological vineyard on the finca. Thanks to the support of many people, it took just two months to raise all the necessary resources, after which El Colectivo* was born. Las Payas now has its own vineyard, at this point growing Pinot Noir, Cabernet Franc, Ancellota, Corvina and Nero d'Avola. Hopefully, its first bunches will be ready for vinification by 2025. 
*Translator´s Note: In Spanish both Colective and Bus
The learning curve for making wine is steep. You get only one shot per year after each harvest to ferment. To correct designs, to experiment, to find new ideas, you have to wait until the following harvest. But from all the wines I made over the years, some ideas stuck and became part of Las Payas: minimal intervention; no wood or additives to flavor the wines; use of native yeasts; sulfur dioxide below 30mg/l total, sulfite-free fermentation; not filtering, stabilization, or clarification.

And a dream: to make wine using just grape must and nothing else.
In 2018, Las Payas became the first artisanal winery in Argentina to export its wines, but not before having to (legally) prove the Argentine government that there was no reason why this could not be done; until then only the mainstream wineries were authorized to do so. Today our wines are spewing throughout Brazil, Denmark, Sweden, Miami, New York, Spain, Germany, Holland and Central America.
IMPORT AND DISTRIBUTION:
In Denmark and Sweden: Rosforth & Rosforth

In Spain: Solo el amor Girona

In Brazil: S4U

In Central America: Ernie Solórzano

In Miami: The Good Life Co.

In New York: Direct Import